New York 4/18/2020 Samantha Heavrin
KyANA CRNAs on the COVID-19 Front lines in the HotSpots
Disclaimer:  KyANA does not endorse or sponsor the content within blog posts. KyANA shall not be responsible or liable, directly or indirectly, for any damage or loss caused or alleged to be caused by or in connection with the use information contained within posts. The contents of the KyANA blog, such as text, graphics, images, and other material are for informational purposes only. The content is not intended to be a substitute for professional medical advice, diagnosis, or treatment. Always seek the advice of your physician or other qualified health provider with any questions you may have regarding a medical condition. Never disregard professional medical advice or delay in seeking it because of something you have read on the KyANA blog. The KyANA reserves the right to reject any blog post or comment for any reason.
Day: Who Knows! 4/18/20
I've lost track of my days here in NYC. It's to be expected since I don't know the day of the week either. Thank God for my phone to remind me of the time, endless as it may be.
Today, I have several things on my agenda. The first thing is a drug screening. It's the second screening and the third visit to this particular Urgent Care. I was just there two days ago for an immunization.
Now this is real credentialing! That one day magic my team was able to accomplish to get us here wasn't enough for our particular facility. After a few weeks they started requesting immunizations and various paperwork. Um, they know I left everything 10 hours away, right?
After review of my accessible records (again, thank you Apple phone), I was unable to produce a dtap (tetanus, diphtheria, pertussis). So, off to Urgent Care I went.  Credentialling is a joke. It's the most cumbersome part of our jobs. It seems ridiculous that this information cannot be nationally data-banked and accessible for all employers needs. I guess I'm overreaching in my expectations.  Nonetheless, as is typical of the process, 9 of our team members have to redo their drug screenings. Somehow they were 'lost'!
Even more intriguingly annoying is fact that we are finishing our deployment obligations, forcing  some people to do their screening upon return home! Bureaucracy at its finest.
What can we do? Nothing! Credentialing is just a painful fact of life.
On to other topics...
We have reached the peak in NYC. Our mash units have filled up with patients. Even though we are above maximum capacity, the facility has handled it beautifully. They were extremely prepared. As a result, there is a greater sense of peace in the hospital.
Staffing was also increased drastically to handle the work load, taking pressure of the ICUs.  We are not seeing a constant barrage of new cases like the last few weeks. ICU admissions have slowed down. They are trying to un-bunk the double rooms, as patients stabilize and transition to long term care facilities.
Post covid, we can anticipate a large number of patients requiring long term care for the rest of their lives. While it's difficult to see death, sometimes life is hard to watch as well. Families, who haven't seen their loved ones since hospital admission will be devastated. Eager to visit, they will be met with a shell of their former family member.  Ultimately, it's difficult to communicate the extent of damage that the patient has endured. It just doesn't translate well over the phone.  I worry about these families.
As we move out the permanent long term care candidates, we continue (to attempt) to support the others. It's a constant battle between ventilator weaning then subsequent instability. I fear the majority of these patients will deteriorate as their bodies lose the strength to fight.
Yesterday, the ICU manager called me into his office. I knew this was gonna be interesting...He said that, over the past several weeks, his team has endured long hours and enormous stress. (Yep, been there and I'm wearing the t-shirt.) He asked if I would please take a team of patients, in order to give them a rest. This would be the final hooray before transitioning back home. And....could I do that on nights?
The ICU manager has no idea how much I like him, because I agreed. During my time on the unit being a resource to the team, I have learned a lot! I know every inch of that unit, how to accomplish any task and I even trained myself on the computer system.  Nights are my least favorite but, I'm willing to do a few of them. Only because this ICU has found a place in my heart.
More difficult however, was agreeing to take patients. I don't do bedside nursing. I haven't actually done it in 20 years. It's difficult to determine how to stay within the nursing parameters. I'm accustomed to making a treatment decision and moving forward. I write my own orders and give whatever drugs needed.  Since I have worked at the bedside, enormous amounts of checks have been built into the system. Drugs need to be checked and co-signed. Some drugs need a co-sign in the Pyxis (drug cart) and on the computer charting. Any miss is a ding on your record.
I'm disturbed by all of this extra work. I think, in attempt to add safety features, bureaucracy has 'dumbed down' nursing. Critical thinking is no longer a nursing requirement. There's an algorithm and five signatures for that.
I'm worried about taking a team. There are so many factors at play. But, I will do it.  Just a few shifts then I can arrange heading home! Home! What once was a million miles away is drawing closer to my reality.   Let us pray for the families who dropped off covid loved ones but, will find someone different on the other side of this illness. May they find strength to deal with their journey.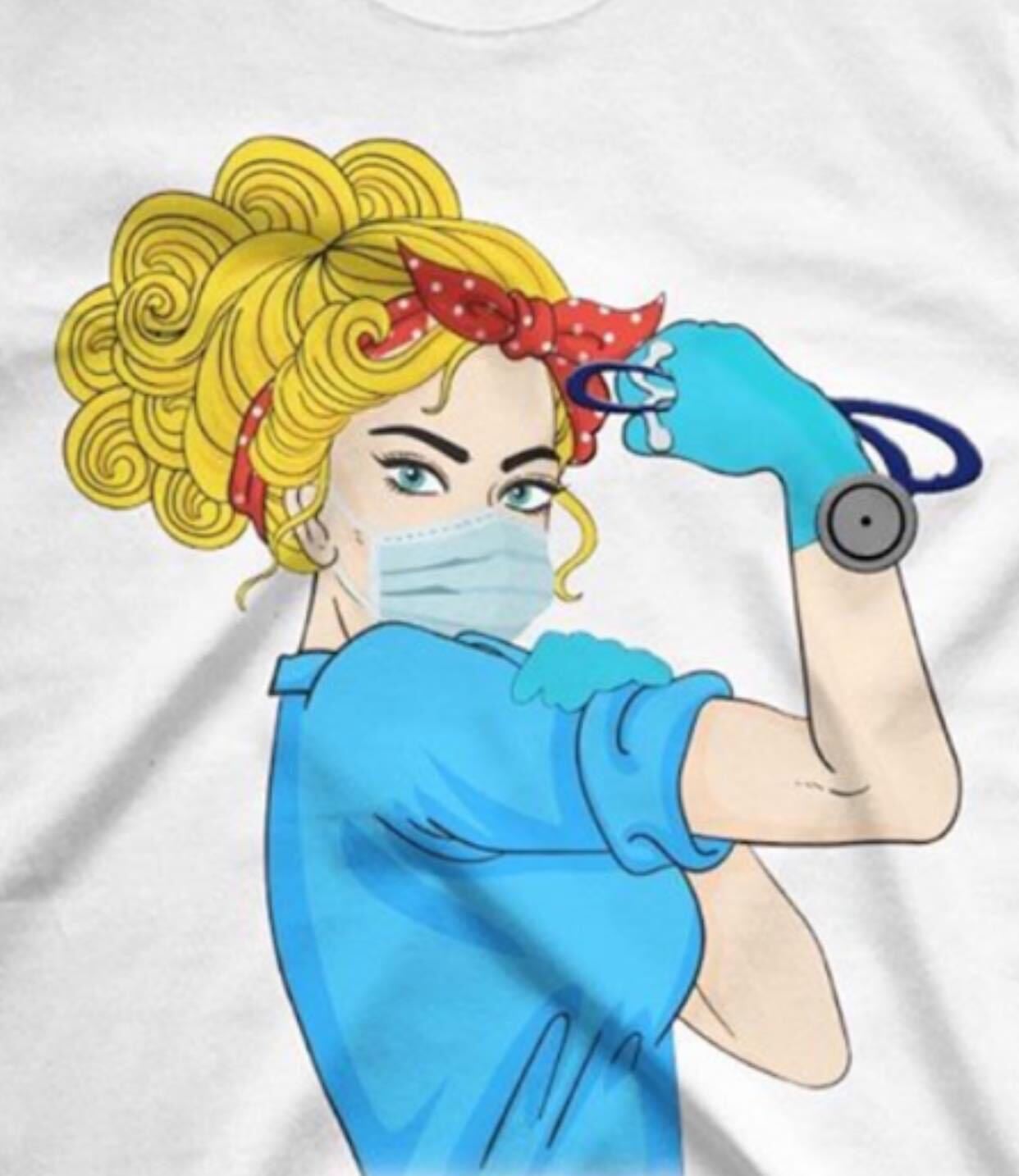 Addendum:
In my last post, I mentioned winding down in NYC. That actually means another 3 weeks (maybe longer). Salle McAfee and I just pretend it's a few days away. We're on the struggle bus.  This is me....jumped outa bed and headed for my second 'whiz quiz'. They lost the first one so here we go! I'm looking very very scary!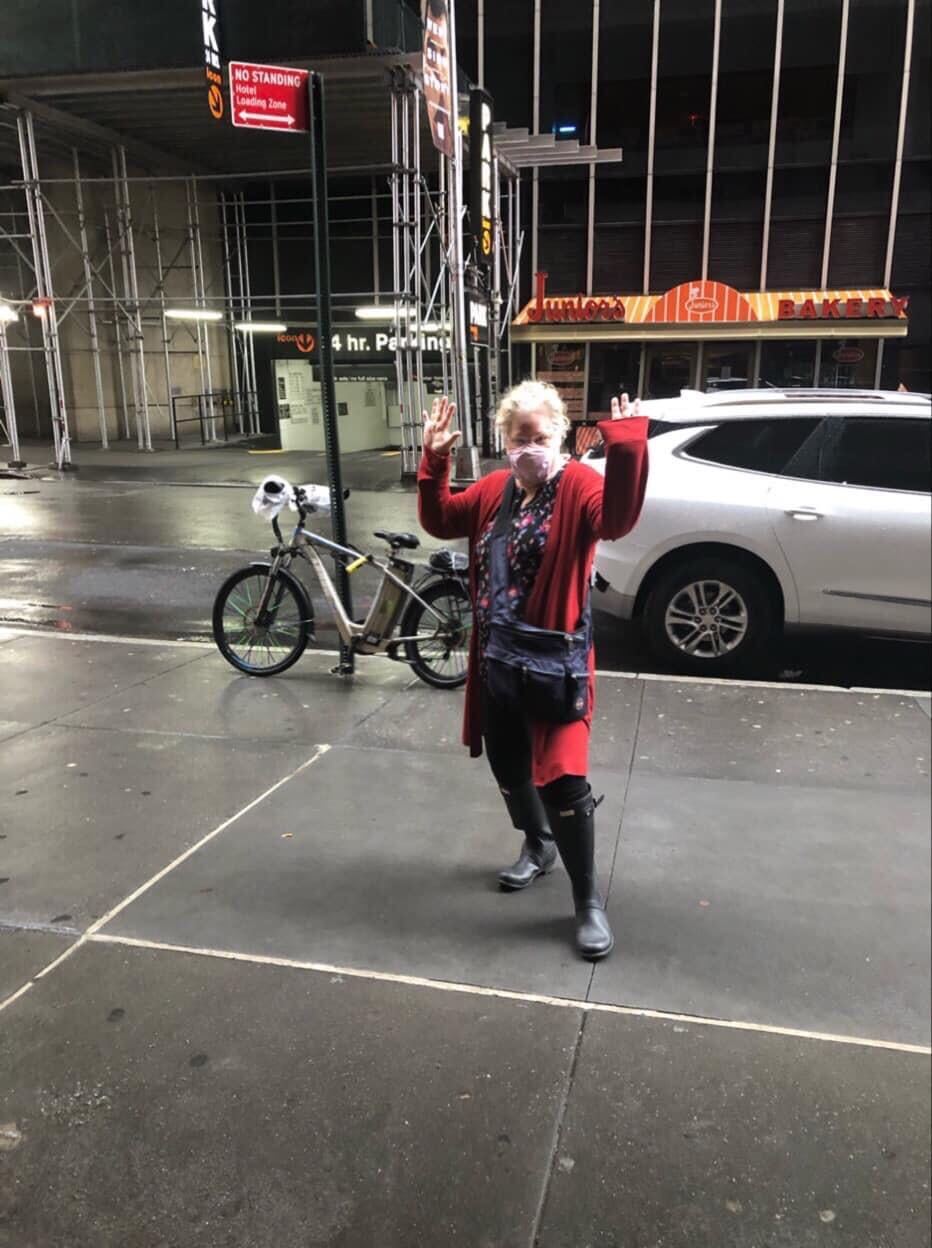 Share this post: