New York 4/8/2020 Samantha Heavrin
KyANA CRNAs on the COVID-19 Front lines in the HotSpots
Disclaimer:  KyANA does not endorse or sponsor the content within blog posts. KyANA shall not be responsible or liable, directly or indirectly, for any damage or loss caused or alleged to be caused by or in connection with the use information contained within posts. The contents of the KyANA blog, such as text, graphics, images, and other material are for informational purposes only. The content is not intended to be a substitute for professional medical advice, diagnosis, or treatment. Always seek the advice of your physician or other qualified health provider with any questions you may have regarding a medical condition. Never disregard professional medical advice or delay in seeking it because of something you have read on the KyANA blog. The KyANA reserves the right to reject any blog post or comment for any reason.
Day 6: Covid Care Lessons
Sorry I did not post last night. I arrived home very late. Salle had picked up our dinner and it was waiting for me. I tried to eat something. However, I must have fallen asleep mid-meal because I awoke a few hours later with a huge unchewed piece of chicken in my mouth. :joy::joy: I leaned over and spit it out then, went back to sleep.  I awoke this morning having dreamt about the end of the world. Not the best night. On that note, today we're going to discuss caring for Covid patients.  Anyone ever work in a Burn Unit?  The lessons I learned at the University of Louisville Burn Unit really helped me in caring for Covid.
Here are some ideas....
1) Limit Patient Exposure
Plan to only enter the room twice during the 12 hour shift. Everything needs to be completed during those 2 visits. Make a list of everything that is to be given or completed. Hang the list on the patient's glass window or door, facing the inside. Once inside, check your list, to ensure completion before leaving the room.
2) Create Alternative Patient Access
The IV pumps need enough extension tubing to run from outside the patient room to the patient. The arterial line should be leveled and accessible from the outside, as well.
3) Scarcity of Resources
Supplies are not thrown away. IV tubing, for example, is generally dated and changed every 2-3 days. This all ends here. Pump tubing should be kept until it falls apart.
Drugs should be kept hanging after they are discontinued, in case they are needed at a later date. Multiple attempts will be made to back off medications and to trial weaning. Patients frequently fail weaning and become unstable then need to be resedated, muscle relaxed or restarted on pressors. Drug sparing occurs when we leave the original medications hanging for a fast restart.  On that note, all drug infusions need to be run until they are dry.
Our hospital is out of fentanyl. We are running out of propofol and precedex. We are trying to think outside of the box for sedation and pain mgt, as we enter the crisis peak. All hospitals across the US will experience this drug need due to excessive use countrywide.
4) Innovative Teams
Assemble creative teams to manage large patient loads. Perhaps use a NP or CRNA to lead a team of nurses who lack ICU experience.  Create Intubation teams and Line teams to meet patient needs quickly.  At my facility, I am entered into the computer in a way that allows me to perform a variety of tasks. I have 3 epic profiles; CRNA, NP, RN.
5) Conserve Time
These are days for time sparing activities. Limit documentation to essentials only! Vital Signs, Medications, Cardiac and Pulmonary. If the patient rooms have glass, use it to document (with dry erase) important items for patient management.
6) PPE
Conserve ppe by regulating facility use. Every caregiver receives 1 n95, 1 regular mask and 1 face shield per day. These are then locked up.  Put the regular mask over the n95 to keep it clean. The n95 can be saved for 5 days. It must be kept in a paper bag.  Put plastic sandwich bags over phones for use.
Use an additional layer of protection when there is a possibility of airway exposure. The picture attached is an ICU nurse getting ready to enter a covid room to check the patient's ett for a cuff leak. On this ICU, patient bags were used to cover the nurse's head.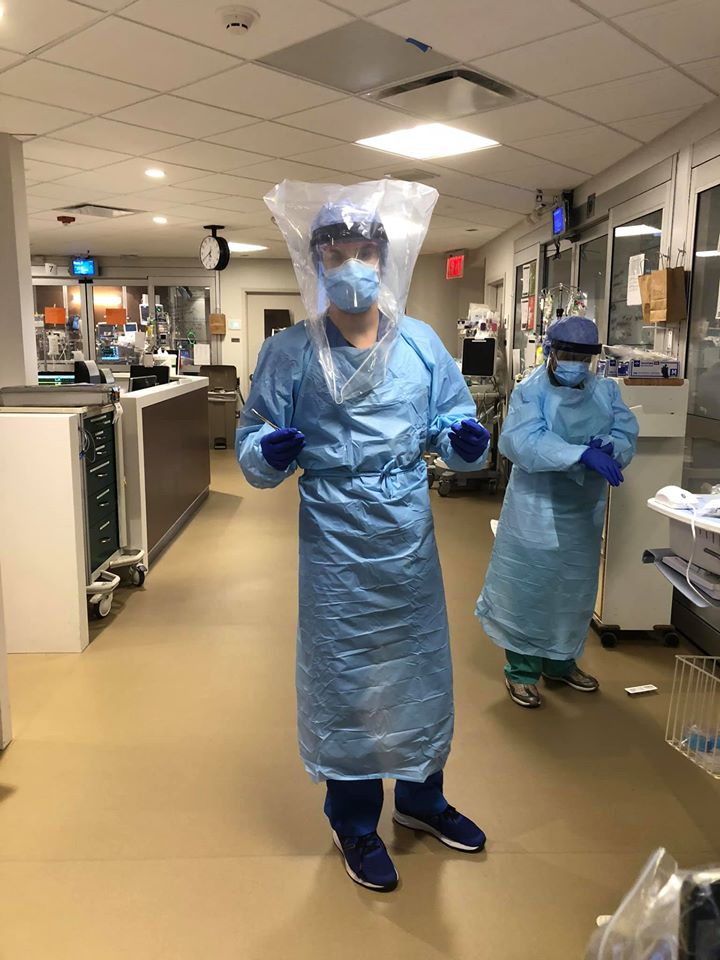 Side note: The ICU nurse was hilarious and we had a great time with our new 'bag your head' requirement.
Anecdotal Treatments
A few weeks ago I was berated for offering anecdotal treatment ideas for Covid. One comment was something along the lines of 'what are they teaching nurses these days'? And another which read 'anecdotal cases do not constitute science'.
During this pandemic, it's all anecdotal. We don't have time for research or testing. People are dying everywhere. All we have are our theories. We can only hope that our anecdotes land on a lifesaving treatment.
These are the anecdotal therapies which are being used today
1) Anti-malarial drugs
2) Chemotherapy drugs
3) Pronation for VQ mismatch
4) Dialysis? It is suggested that dialysis patients are recovering with more success.
That's all for today friends! Remember to be kind to one another no matter how tired you become. Don't treat other healthcare workers badly because they don't 'know' what you 'know'. We need to help each other.
The initial chaos causes difficulty in orchestrating so many individuals with their specialties. Be diplomatic when demonstrating your abilities without being rude.  Pray. Pray. Pray.
For future posts, I plan to watch the movie Contagion. That way, I can let you know how this all ends.
Share this post: