New York 4/5/2020 Samantha Heavrin
KyANA CRNAs on the COVID-19 Front lines in the HotSpots
Disclaimer:  The contents of the KyANA Blog, such as text, graphics, images and other material are for informational purposes only.  KyANA does not endorse or sponsor the content within blog posts. KyANA shall not be responsible or liable, directly or indirectly, for any damage or loss caused or alleged to be caused by or in connection with the use information contained within posts.  The content is not intended to be a substitute for professional medical advice, diagnosis, or treatment.  Always seek the advice of a qualified health provider with any questions regarding a medical condition.  Never disregard professional medical advice or delay in seeking it because of something you have read on the KyANA Blog. 
Day 5: Back to the Trenches  Late last night, Salle McAfee and I were assigned to a private NYC hospital. The drive was eerie. We passed scores of high end stores that I would otherwise be salivating over: Tory Burch, Macy's, Barney's, Giorgio Armani. But, now all of those stores are closed. The streets are empty; devoid of traffic and people.Thru my window, I saw beautiful Central Park. It has changed too. The park, where runners and dog walkers once roamed, has been transformed. The green landscape is obstructed by a sterilized white mountain of waiting mash tents.As we enter the hospital, I can imagine it's former stateliness. The ceilings rise high above multiple floors, illuminated by a rising sun as it shines thru the glass arches. And here, amid the once sprawling foyer stands a military deployment of mash units. Not one, not ten...hundreds. Every hallway, nook and cranny has been inhabited. It is a hospital within a hospital.Across the city, these mash units have been assembled with military swiftness and efficiency. We are waiting for the peak. One week? 9 days? It's like standing on a shoreline awaiting the tsunami that stirs on the horizon.As we travel to our assigned critical care units, we pass the former med-surg floors. These floors have seen a metamorphosis. They no longer house anyone who is not covid positive. These are all now critical care units. And, these units are staffed with every available able-bodied healthcare provider.A floor that once held gastrointestinal patients has become a covid ICU. The nursing team came from backgrounds in home health, oncology, neurology and cardiac.The single rooms have become doubles. OR anesthesia machines are running nonstop on the left side of the rooms for patient A. Traditional ventilators with monitors sit on the right side of the rooms and assist patient B. Both sets of equipment are pushed into their corresponding corners to maximize space.Crnas do whatever is needed. We staff alongside the nurses. We assist in training non-ICU prepared teams. We work on intubation teams. Nothing is below us and we can rise across a paradigm of job descriptions.Every unit has a medical team. My team today was led by an Anesthesiologist turned Intensivist. She was assisted by residents who intended to be in other rotations or specialties but found themselves on the front line of covid. It's all hands on deck. There's a sense of organized chaos in this hospital. I can feel the anticipation in the air, it's a mixture a fear and determination.I look at my alien world and I struggle to understand how we ever got here. Where did we go wrong?Is this a sardonic slap in the face by evolution? A Godly reminder of our place in the heavenly hierarchy? Either way, we are here. This is our new reality, at least for a time. We can choose to cower or to stand strong.I choose to stand. By Sam and Salle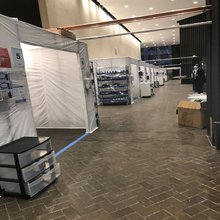 Share this post: